When the Ziyad brothers, Ahmad and Ibrahim left Palestine as teenagers in the early 1960's, they always intended to return with the hopes of starting their very own Medjool date farms on their ancestral land. They have always had a deep love for the Medjool date because of its cultural and nutritious significance to the Palestinian people.
Located in the West Bank just west of the Jordan River Valley, sits at a low elevation of 438 meters below sea level with abundant sunshine, low humidity, rich soil, and natural spring water – creating the perfect environment for growing plump delicious medjool dates. Today, over 10,000 majestic Medjool Date Palms are expertly cared for by agricultural experts and local farmers from Jericho. Conflict-free Palestinian dates, by Palestinian farmers.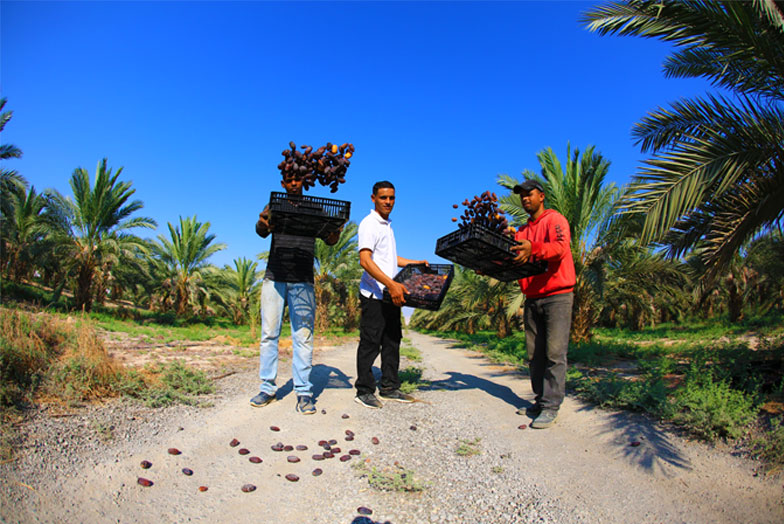 Since its inception in 2007, the Ziyad Brothers from Chicago, Illinois began to procure the most optimal parcels of land in Jericho with the desire to fulfil the global demand for the most sought-after dates: Palestinian medjool dates. Thus, Palestine Date Farms was born.
In 2019, the Palestine Dates Company was established to facilitate the high demand of the Palestine Date Farms and local farmers in need of processing their dates, to control the brand integrity, and guarantee the highest quality standards for our own prestigious brands, private label brands, and brands that we supply to all over the world. Over 10 Million USD was invested into the Jericho economy including a state-of-the-art facility that was built from the ground up.
The facility utilizes the most advanced processing and packaging equipment for washing & drying, new computerized optics grading system, and the first ever "dry sanitation" technology- an additional step we pioneered to eliminate all external bacterium to guarantee the finest quality medjool date for distribution in the USA and globally.
Our facility also contains over 1,000 sq. meters of freezer space that holds up to 1,500 tons of dates at -18 degrees Celsius. Our advanced state of the art processing & packing machinery provides us with the ability to sort and grade the medjool dates with incredible speed and accuracy, while our highly skilled team guarantees quality assurance and safe food handling. We have all certifications ISO 14000, ISO 22000, FSSC CERTIFICATION, and HALAL CERTIFIED.